Clarkson Hockey Is Back!
Fellow Alumni,
Fans are back at Cheel and the teams are back on the ice.  The men's team celebrates their 100th season, and the women look to return to nation prominence. This quarter the Clarkson University Pep Band Association is planning a mini-Alumni Weekend, hockey watch party events, and preparing for COGO 2022.  Stay tuned to our new website, and our social media for updates.
I hope to see you soon! Let's Go Tech!
Brett Gobe '03
CUPBAA President
Fall Mini Alumni Weekend
November 12-13, 2021
Clarkson vs Harvard November 12th at 7PM
Clarkson vs Dartmouth November 13th at 7PM
Prior to the Game Saturday come hang out with other band Alumni at ADK Lodge 1PM-6PM
***Please email president@cupbaa.org proof of vaccination or a negative COVID Test (1-3 days before) in order to attend the Band Alumni event at the ADK Lodge. 
Tickets available soon at https://clarkson.universitytickets.com
Housing 
Hampton Inn Potsdam  https://www.hilton.com/en/hotels/ogspchx-hampton-potsdam/
Clarkson Inn    https://www.clarksoninn.com/
There are some spaces in an AirBNB as well. Contact Liz Cadwell for more information.
Please Note: Clarkson University: Spectators for indoor sports must wear face coverings at all times, regardless of vaccination status. Unvaccinated spectators must be masked at all times, including at outdoor athletic facilities.
LIVE HOCKEY WATCH PARTIES AND GAME CHATS ON DISCORD
As we discussed in our last newsletter, the CUPBAA.org website has been fully overhauled and looks amazing! Hopefully you have already checked it out at www.cupbaa.org to see the updates!
This quarter, we are excited to announce that we have created the official CUPBAA Discord channel! This will be a place to discuss all things Pep Band, including text channels for hockey, event coordination, music, and other sports. We will also have LIVE voice chat during hockey games!! For an invitation to the Discord channel, please email vpalumni@cupbaa.org or info@cupbaa.org and we will send you a link!!
Features planned for future:
Members Only section, including

Media Library, including members only photos, videos, and stories

Official CUPBAA Message Board for regular communication

CUPBAA Alumni event registration (e.g. COGO, playoffs, road trip instrument fill-ins)

Music Library – download & print flip books with past and current band music
If you have any other ideas, suggestions, requests, or comments about the website, please share them with us at info@cupbaa.org – we are working hard to improve and make this useful for all CUPBAA Alumni!
Special shout out thank yous go to Beth Moeller '88 for her beyond-generous donations of time, expertise, and her team at IMC, Jenna Saccocio and Curtis "Cujo" Metcalfe '19 for their tireless efforts designing, re-working, testing, iterating, and creating such an incredible end result.
GOLF TOURNAMENT UPDATE
Save the Date: July 30, 2022
Golf is over… which means HOCKEY IS STARTING! Before moving on to that, we want to share some exciting news. Despite COVID-19 causing all sorts of schedule conflicts, the 2021 CUPBAA Golf Tournament was yet again the most successful to date!! We raised over $4,700 toward the CUPBAA Scholarship – a nearly 25% increase over 2019. Thanks to your generous participation and donations, we can continue increasing the value and number of scholarships we can award to dedicated, deserving band members.
Next year's golf tournament is scheduled for July 30th, 2022. We can't wait to see you all there again and keep on growing!
Music and Rules Committees
Two committees are forming to help assist the association.  A music committee will be created to organize any old music, purchase new music, and coordinate with the current band. A rules committee will be established to amend the current constitution and write some specific by-laws.
Music Committee will meet via Zoom on October 28, 2021 at 8pm.
Rules Committee will meet viz Zoom on November 3, 2021 at 8pm.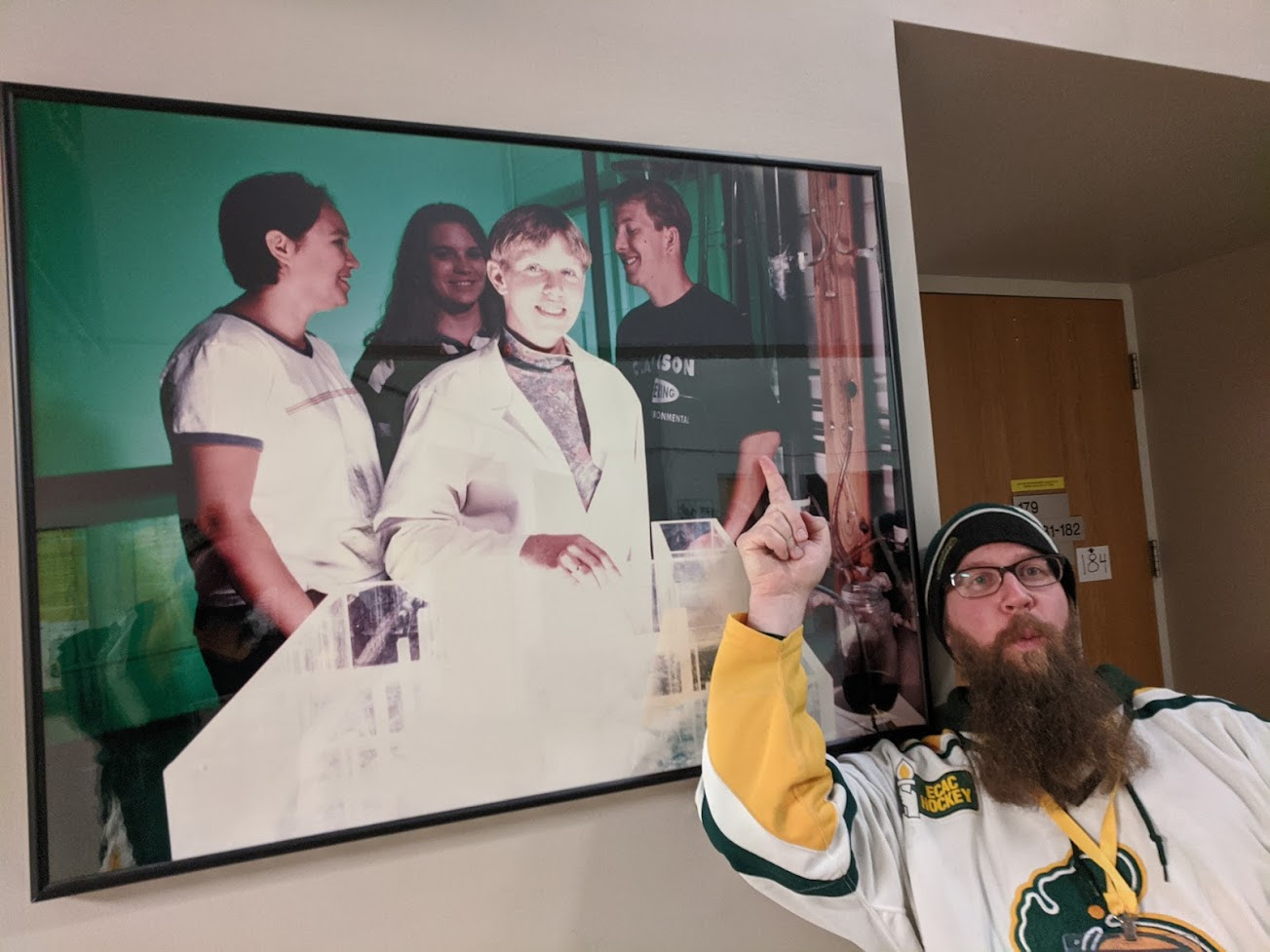 This quarter's alumni spotlight falls on recent Woodstock Award Recipient, Eric Carney
What year did you graduate/major?
2001! With a major in Aerospace and Mechanical Engineering.
What do you do for work now?
I work for Collins Aerospace in Vergennes, VT as a Program Chief Engineer in the Diagnostic System, Electric Brake and General Actuator Value Stream. I'm the main customer technical point of contact for our programs. Turns out Clarkson grads are really good communicators
What did you play in band? 
Play? Oh, you mean "play". Yeah, I could sometimes get sounds to come out of my saxophone.
What positions did you hold in band and CUPBAA?
Vice-President (97-98), Director (98-99) and President (99-00)
What's your favorite CU undergrad or alumni memory
Oh, man. So many. Is that a cape? Dink-Dink-Dink-da-Dink You Just suck! Every Absolute trip. Drinking from the Whitelaw in 99. 2008 East Regional in Albany. COGO. Tunak Tunak Tun! Late night Iron Chef. I could go on. Really, the best memory is during those moments when I looked around at the people I was with and knew we would be friends for life.
How does it feel to recieve a Woodstock Award?
Shocking. I am truly honored. I love this damn school. I have lived in five states and Clarkson has always felt like my real home. I love volunteering for Clarkson causes. To get singled out for it…amazing! I'll finally get back on campus this October! The past 18 months is the longest I have gone without stepping foot on campus since August 1996. I can't wait to just be there and take it in…
When you eat a gummy bear, do you eat the head or the feet first?
No gummy bears. I consolidate with Skittles. But if I did eat a gummy bear, it would be head first.
Do you know have a band alumni you would like to hear from? Email vpalumni@cupbaa.org to suggest our next alumni spotlight.
Treasurer's Report
As of October 1, our total balance in all accounts is $2165.97. Funds raised through the Golf Tournament totaling $4365.53 were paid to the CUPBAA Scholarship Fund on August 23. Thank you to all those that came out in support of the scholarship!
COGO 2022 IS JUST AROUND THE CORNER!
CUPBAA ELECTIONS
Officer elections are planned for Saturday, February 26th, at the Annual General Meeting of CUPBAA. A formal solicitation for officer nominations with a description of the officer duties will be sent to all CUPBAA members on November 26th. Nominations will be accepted from November 26th through December 26th, and self-nominations are acceptable. After the nomination period has ended, we will contact the nominees to notify them of their nomination. To accept the nomination and become a candidate, the nominee will need to submit a written platform (why they feel they are right for the job) by January 9th. It is possible to be nominated for more than one officer position, however a nominee may only accept his/her nomination for one office.
We will compile all the written platforms from the candidates and develop a ballot package, which will be sent to CUPBAA members by January 23rd. This ballot package will include an official ballot with names of the candidates for each position, the written platform for each candidate, and voting instructions. CUPBAA members will be able to vote either at the Annual General Meeting on February 26th or by submitting an absentee ballot postmarked or submitted electronically by February 20th.
We encourage everyone to participate in this election process by running for an office, providing a nomination, or just simply by voting when the time comes! If you have any questions, please contact us at vpalumni@cupbaa.org